Source: Southside Electric Cooperative
March 22, 2016
BLACKSTONE – Following the early March announcement of the launch of Virginia's first Power Line Worker Training School, students and instructors wasted little time. On day two of the brand new 11-week certification course being offered by Southside Virginia Community College (SVCC), students from across central and southern Virginia were already 40 feet in the air.
Learning the skills for a new job can be difficult for anyone, regardless of the occupation. But electric line work brings its own unique challenges, especially
when the job site is atop an electric utility pole. Part of SVCC's new Power Line Worker Training School is preparing students to work at exactly this location – high above the ground. On March 1, the inaugural class of SVCC's new training school strapped on their climbing hooks, stepped up to their lofty classroom and began their quest for employment in the electric utility industry.
The new program is especially significant at a time when many experienced line workers across the country are retiring and leaving vacancies on the front lines of an industry that insures our nation's electric systems are functioning at their very best. This trend has caught the attention of electric co-ops right here in Virginia, especially Crewe-based Southside Electric Cooperative (SEC) and Chase City-based Mecklenburg Electric Cooperative (MEC).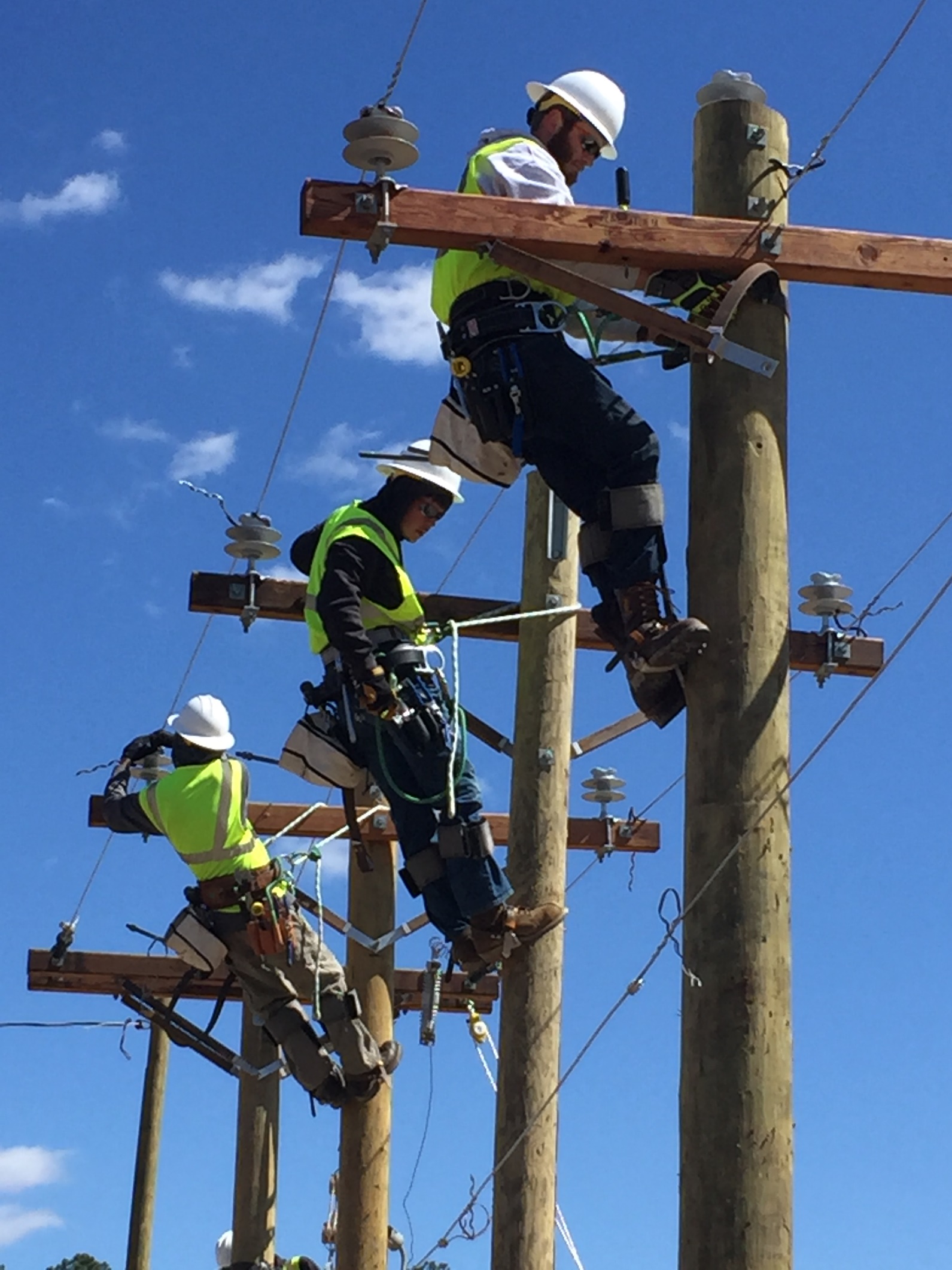 Brad Furr, director of operations for Southside Electric, notes: "You can fill an opening, but you don't easily replace 30 years of know-how. Line work is physically demanding, but it is also mentally challenging; and line workers follow rigorous training on the job. This training takes time and commitment for an employee to safely meet the requirements of handling 14,400 volts on the lines that serve our communities."
"Electricity is a must, and employing great line workers ensures that our members' needs and expectations are both met. Whether that means power to run a washing machine at home or the industrial machines of local business – power must be available and reliable. The retirement of long-time line workers is occurring now, and there are more are to come . . . never has it been more important for our industry to have access to high quality line worker applicants," adds Clint Card, Mecklenburg Electric's manager of the Chase City district's operations.
Over the past year, both Mecklenburg and Southside have worked with SVCC to establish a training program to develop qualified applicants for future line worker positions at cooperatives, investor-owned utilities, municipalities, and contractors across Virginia and beyond. The new school, which grew out of a career-exploration program created by Southside Electric called A Day in the Life of a Lineman, will bring needed opportunity to the region and the state.
"Over the past ten years cooperatives have been preparing for the retirement of numerous workers in our industry. This is not only a regional trend – it is impacting our nation. To meet the growing need for qualified applicants, several schools in the south have opened in recent years to provide pre-training for those interested in pursuing positions as line workers. We have seen some truly solid candidates come through these programs, but now we have a training center right here at home ensuring a pool of candidates with a commitment to Virginia," states Jeff Edwards, president & CEO of Southside Electric Cooperative.
The opening of the SVCC Line Worker School is the first pre-training program in the Commonwealth of Virginia. The school's first class of 12 students from Charlotte to Powhatan counties, includes some who've just graduated from high school as well as those looking for a new career path. Jackie Lewis, a member of this first class, hails from Wylliesburg, VA. He and his family have been working for nearly two years to find a program just like this. Jackie's mom, Kim, is excited about the new school and its impact on her son's future. "We were looking into enrolling Jackie into a similar program in Georgia and were pleased to find this opportunity offered by our own SVCC, and endorsed by our own cooperative MEC!
It's local and the costs to attend here are about half of the tuition fees for Georgia school,
especially when considering room and board to attend a program several states away. I can hardly express how happy it makes me to see my son so excited about this opportunity, and if he works hard and graduates, it will provide him the security of a lifelong career in a rewarding field," the elder Lewis notes.
Cameron Gibbs, program participant and son of Southside Electric Co-op district supervisor Gary Gibbs, is excited to be on his way toward a lineman career. "This whole experience has gone really well. Being a lineman isn't something I thought I was going to do when I first got out of school. Then I realized that college just wasn't for me. I figured after a few weeks of classes I could start my career. By the first day I just fell in love with it. Climbing, working hands-on and making good money – you can't beat it," Gibbs notes.
So often, excitement about school and learning is simply just not the norm. But Clyde Robertson, the school's lead instructor, already has his first class on the move and engaged. Robertson, a retired Southside Electric Co-op journeyman lineman with over 40 years of experience, says: "Line work is a tough job, and a line worker is required to wear many hats. We are giving these students a leg up by developing the skills they need to fill job openings at organizations that build and maintain electric distribution systems. On the first day of school, they strapped on the hooks and started climbing poles. They're also learning the importance of being responsible, listening to instructions, and doing their work safely every time. Here, they'll be taught that there is no room for cutting corners when working with electricity."
The opening of SVCC's new Line Worker School is the culmination of the efforts of multiple groups and organizations. After months of hard work and collaboration between SVCC, the Virginia Community College System, Governor McAuliffe and his staff, and electric cooperatives across Virginia, the program stands as a shining example of a true public-private partnership.
"We have created an opportunity for those who have what it takes, including the desire, to be line workers, and a place where they can establish a strong foundation for a very rewarding career," says John Lee, president & CEO of Mecklenburg Electric Cooperative. "Not only will students who successfully obtain this certification have the opportunity to provide well for themselves and their families, they'll also become valuable contributing members of their communities. To watch this inaugural class climb utility poles for the first time brings all the challenges, work and cooperation together in a very positive visual way; the young men up those poles are verification that, by working together and pooling resources, we can make a difference and bring gradual change to Southside Virginia always remembering that even an elephant can only be eaten a bite at the time.
This school will deliver local candidates to job interviews for meaningful positions who are more than prepared, they are driven, and to a large extent already proven... and their success will impact not only our region, but the entire Commonwealth."
Demand for the school is high, with two additional 11-week classes scheduled to begin this year, in July and October. Each class series will have about 15 students, and is taught at SVCC's Occupational Technology Center at Pickett Park in Blackstone. The next session opens on July 11, 2016, and lodging is available for those requiring such accommodations.
For more information about SVCC's new Line Worker Training School, go to www.southside.edu or contact SVCC's Susan Early at (434) 292-3101 or by email at susan.early@southside.edu.
About SVCC:
Southside Virginia Community College is one of the 23 schools in the Virginia Community College System. It was founded in 1970 and has the largest geographic service area of any community college in the state, covering 10 counties and the city of Emporia.
About Mecklenburg Electric Cooperative:
Mecklenburg Electric Cooperative is the not-for-profit consumer-owned energy provider to over 31,000 homes, farms and businesses located in portions of the Virginia counties of Brunswick, Charlotte, Greensville, Halifax, Lunenburg, Mecklenburg, Pittsylvania, Southampton and Sussex and the North Carolina counties of Granville, Person, Northampton, Vance and Warren. It is a Touchstone Energy Cooperative, headquartered in Chase City with district offices in Gretna, Emporia and Chase City. This institution is an equal opportunity provider and employer. For more information, visit www.meckelec.org.
About Southside Electric Cooperative:
Southside Electric Cooperative (SEC) is a not-for-profit, member-owned electric cooperative that serves over 55,000 homes and businesses in portions of 18 counties in central and southern Virginia. Headquartered in Crewe, SEC has district offices in Altavista, Crewe, Dinwiddie and Powhatan. For more information about SEC, please visit www.sec.coop.
Press Release Contact: Allan A. Sharrett
V.P., Public & Member Relations
allan.sharrett@sec.coop | (800) 552-2118
P.O. Box 7 2000 West Virginia Avenue Crewe, VA 23930
1-800-552-2118 www.sec.coop