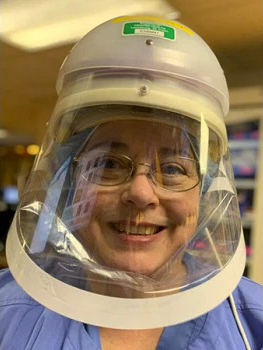 A Farmville business has joined the nationwide effort to supply personal protective equipment (PPE) to healthcare workers fighting the coronavirus pandemic.
YakAttack, a local company that normally produces fishing gear for kayaks, has temporarily refashioned its machinery to produce PPE.
Company President Luther Cifers said YakAttack, like many other businesses, has been heavily affected by the pandemic. Although spring is one of the busiest times for the industry, several workers were laid off as things came to a halt.
Photo: Robin Guthrie, who works at Centra Southside Community Hospital's Emergency Department, tries on a PAPR face shield produced by YakAttack. The business is utilizing its kayak fishing machinery to produce emergency PPE equipment during the COVID-19 pandemic.
Recently, a friend pointed out to Cifers the ongoing massive PPE shortage and asked if the business could help.
"One of the unique qualities of YakAttack is getting things out to market quickly, because we do everything in-house," Cifers said. "So we pivoted all of our engineering efforts and a significant part of our manufacturing efforts into developing what we're calling emergency PPE."
Getting things out to market quickly is an understatement. Cifers said the company expected to have its first production-sized batch of products, PAPR (powered air-purifying respirators) face shields, out April 3.
"All these doctors all over the country are being put in positions where they're having to clean and reuse things that weren't meant to be reused," Cifers said, "And one of the things completely unavailable, because they're generally not used very much but now because of this COVID-19 crisis they're being used everywhere, are these PAPR shields. That was the first product we were able to quickly get developed."
He added the initial products will be distributed to Centra Southside Community Hospital in Farmville. Cifers said he hopes YakAttack will first be able to supply ample emergency PPE gear to local healthcare organizations before then looking to also send products elsewhere, such as cities and virus "hot spots."
"Our first goal is to make sure the immediate needs of the community are met," he said.
Currently on the manufacturer's list are the PAPR shields and other, simpler face shields, emergency respirators with interchangeable filter capabilities and an isolation tent/aerosol box to help with scenarios like patient intubation. Cifers said the company is also working to hopefully develop other items, such as full-body isolation tents.
There was quite a bit of problem solving involved when it came to modifying kayak accessory machines to produce medical products, according to Cifers. Surprisingly, two of the machines being utilized were originally used for advertising purposes.
The PAPR shield material is being cut using a printer that originally produced marketing items such as stickers. Other equipment is being formed thanks to a laser cutter that previously made promotional bottle openers.
Cifers said injection molding machines the company uses to produce kayak fishing accessories can be altered to mold plastic for other purposes, such as PPE items. In fact, many of the precise machines were originally made for medical use.
YakAttack's team is heavily focused on this task. Designing products and making tooling is often an outsourced job for some companies, but the business' employees are doing everything in-house, meaning processes that normally take months are happening quickly and efficiently.
The business has also been conferring with local hospital officials and medical personnel to make sure the emergency equipment meets the needs of its intended users.
"What we've been doing is making prototypes and getting it to their team," he said. "They're letting us know if it makes sense, if it works, if there's anything we need to change, and we'll iterate accordingly and revise it and then test it again."
Cifers emphasized that YakAttack's manufacturing of these products is a relief effort, and that the business is not making any profit from the PPE equipment, nor does it intend to.
However, the company cannot source materials and produce the equipment without covering costs.
In an effort to keep up production, YakAttack has established a GoFundMe page encouraging anyone able to spare funds for the project to donate. As of Monday morning, April 6, the fundraiser had raised $13,510 of its $50,000 goal.
Cifers said if the company has enough funds and surpasses its ability to increase manufacturing of PPE, the next goal would involve producing tooling for other injection molders across the country to produce the PPE items.
To make a donation and help YakAttack manufacture this emergency equipment, visit https:// tinyurl.com/yakattackgivesback.