Collaborative Effort Attracts Investment and Participation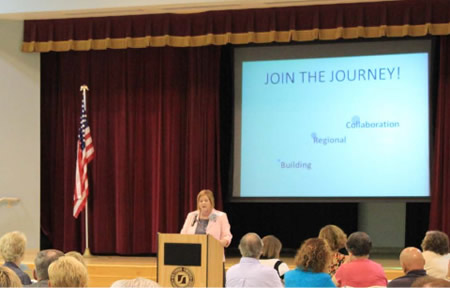 Representatives of businesses, governments, agencies and local organizations from the six counties and one city of Virginia's Growth Alliance (formerly TransTech) convened to launch a comprehensive regional community development initiative.
Some members of the crowd, which totaled about 100, have been involved with aspects of the effort for more than a year. Others were in for a surprise. In its first year, the newly-formed regional economic development organization has rallied the resources and investment of nearly a dozen agencies and investors, and they have laid out a plan for a systematic economic assessment and the development of regional strategies.
Regional efforts attract coordinated agency support
Beginning in October, a broad-based group will work with economic and community development specialists in a data-rich analysis of the region's assets, industrial mix and strategic opportunities. The Stronger Economies Together (SET) process is new to Virginia, who joins 26 other states in working with select regions in the national program. The Northern Neck also was chosen in the competitive process to undertake the effort. In Virginia, SET is coordinated by USDA Rural Development, in conjunction with the Virginia Cooperative Extension (VCE), Virginia Department of Housing and Community Development (VDHCD), Virginia Tourism Corporation (VTC), Virginia Tech Office of Economic Development, the Virginia Economic Development Partnership (VEDP) and the Virginia Association of Counties (VACo).
"We hope this process will help us step back and take an objective look at our region," said Sherry Swinson, Virginia's Growth Alliance's executive director. "The timing is right, and we are able to take advantage of the opportunity because of the resources and organizational development support the board received through the Building Collaborative Communities (BCC) grant and because of several ongoing conversations that were already happening at a regional scale."
The Building Collaborative Communities program, administered by DHCD, is another cross-agency initiative, which provides funding and technical assistance for new and emerging regional collaborations. Program partners include the Lieutenant Governor's Office, the Virginia Department of Business Assistance (DBA), VTC, VEDP and the Virginia Community College System.
The power of regional conversation
Virginia's Growth Alliance is just one of the vessels carrying the region forward. In the fall of 2011, two creative economy workshops brought the region together around strategies of investment and entrepreneurship involving the region's natural, community and quality of life assets. Hosted by VTC, the first event, held in South Hill, highlighted the Southwest Virginia cultural heritage and asked the question of what it would look like to build an economy on the specific Southern Virginia assets that cannot be outsourced. Featured speakers included Dr. Suzanne Morse, author of Smart Communities, and came from both within the region and shared examples from across the state and
the nation.
On the heels of that meeting, 70 people attended a workshop hosted by DHCD and VTC to identify assets unique to the region. Some of the categories include historic downtowns, natural beauty and outdoor recreation, arts and culture, history and entrepreneurs and successful businesses. A map of the assets identified to date is available here.
"I'm surprised by the asset list already," said Christine Hasbrouck, owner of Blackstone's Grey Swan Inn Bed and Breakfast. "When you look at them across the counties, they start to form a picture of the region. They tell a story, and I am eager to see where we can take this."
Aligning resources for action
The big picture of the regional strategy will form over time, shaped by regional data and the input of volunteers and community leaders. To help coordinate the effort, DHCD successfully applied for a USDA-Rural Development Rural Communities Development Initiative (RCDI)
Grant. Grant partners, including VTC and Virginia Housing Development Authority (VHDA) will work with Virginia's Growth Alliance, Virginia's Retreat, Southside PDC, Southside Outreach Group and others. The grant brings $200,000 in federal funding to a coordinated, project-based community development effort.
"The RCDI grant will help provide real resources in the implementation of thestrategies we develop through StrongerEconomies Together," said Swinson. "It willmake us a lot more comfortable to engagea broad group across the region in thinking through strategies, when we know that we will have some resources in line to help bring them to fruition."
21st century economic developmentis community development
Specific pieces of the RCDI funding will support broad elements of a coordinated development strategy, including a regional leadership development program, ongoing creative economy and asset-based strategies, a rural downtown revitalization initiative, entrepreneur support strategies and exploration of upper story downtown housing potential. It is broad reaching, pulling together a wide variety of efforts that create high-quality places where we can lead meaningful and rewarding lives.
"When we talk about economic development today, we are talking not just about industrial recruitment," Beth Doughty, Roanoke Regional Economic Partnership's executive director and keynote speaker at the August 21 regional gathering titled, Charting a 21st Century Economy." It is about recognizing that people can work from anywhere. It is about recognizing the culture of innovation. It is about recognizing the culture of entrepreneurship and folding all of those pieces into your economic development program. You are busy spinning a lot of plates at one time."
"The world has changed," Doughty continued, "So our approach to economic development had to change. As a newly- forming regional organization, you have a great opportunity to take advantage of these changes."