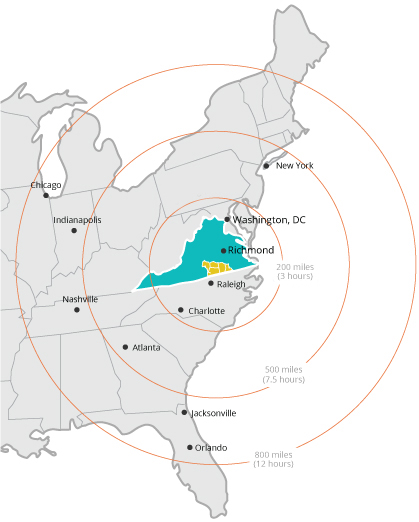 Virginia's Growth Alliance is located in the southeastern portion of the Southern Piedmont region of Virginia. The region is bordered on the south by Lake Gaston, Buggs Island Lake, and the state of North Carolina.
We're located only 90 minutes via 4-lane highways from the Port of Virginia, the deepest port on the US East Coast. The port recently added 4 new ship-to-shore cranes that are the largest cranes to operate at a U.S. commercial port.
Our Mid-Atlantic location puts us within a 1-day drive of 2/3 of the US population. Access to multiple interstates and 4-lane highways helps deliver your products throughout the US and the world.
The 4,400-square mile region has a strong agricultural heritage and rich forest resources, but in recent years manufacturing activity and service-related industries have prospered. With vast woodlands, abundant mineral resources, a plentiful water supply, and easy accessibility to metro areas in all directions, the region offers extensive economic development opportunities.
The town of South Hill is 75 miles southwest of Richmond, the state capital; 180 miles south of Washington D.C. ; and 115 miles west of Norfolk.
We're proud to have world-class technology companies like Microsoft and HP located in VGA. Find your perfect site location in Virginia's Growth Alliance!
Located within the Southeast's Aerospace Triangle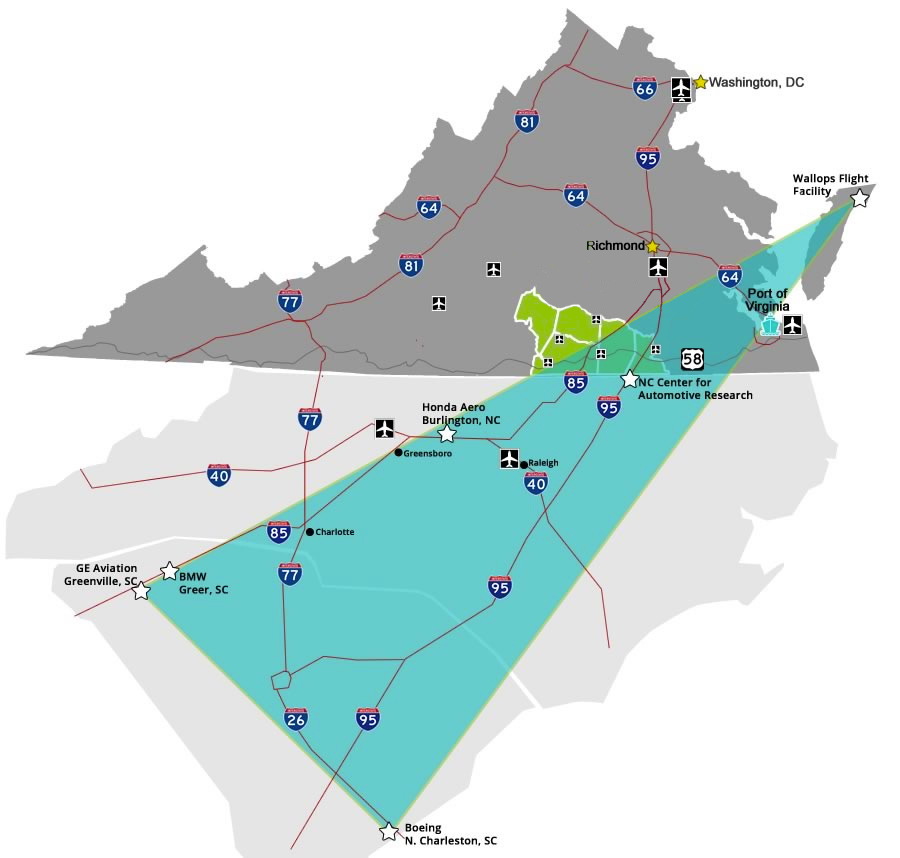 VGA's location with the Southeast US "aerospace triangle" makes us an ideal location if you're involved in the industry in any way.
The triangle includes companies like Rolls-Royce near Petersburg, VA; Honda Aero, Inc. in Burlington, NC; GE Aviation in Greenville, SC; and Boeing in North Charleston, SC.
VGA also includes Virginia's Beyond Horizon Corridor for UAV testing, and our Counties hold a Certificate of Authorization from
the FAA.
Our location also gives you easy access to the defense industry in Washington, DC, and Hampton Roads.