We Cultivate Connections.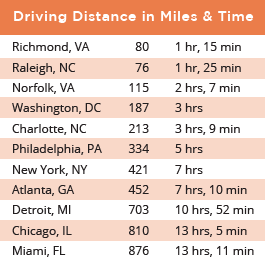 Virginia's Growth Alliance boasts a superior transportation network and a central position along the eastern seaboard of the United States.
With close proximity to several major metropolitan areas, we're also within a day's drive of almost two-thirds of the US population.
An outstanding road network provides convenient access to port and air services, so any market – whether national or international – is within easy reach.
Note: The accompanying Driving Distance chart is based on distance from the town of South Hill. Distances from other communities in VGA will vary.
Roadways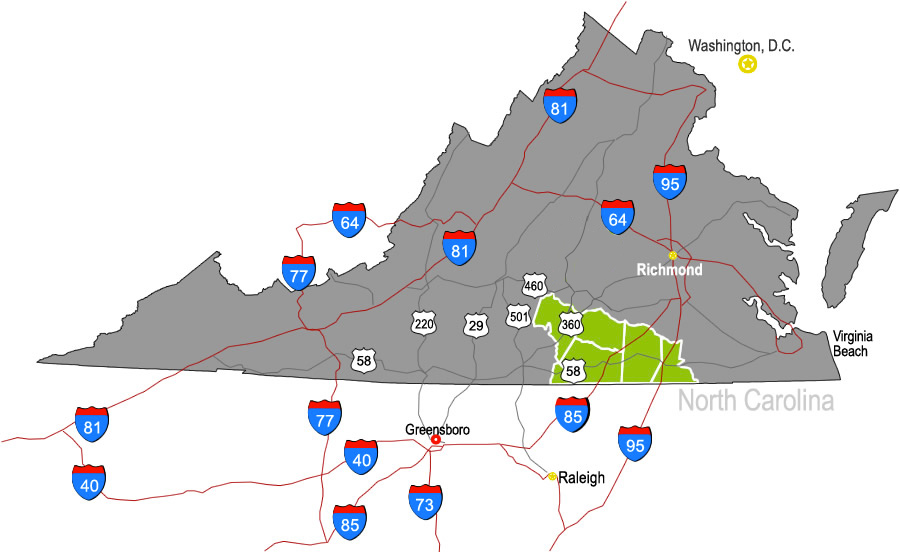 Interstate 95 is the major north-south corridor on the east coast, connecting major metropolitan areas such as Miami, FL, Washington D.C., New York City and Boston.
Interstate 85 connects Atlanta, Charlotte, Raleigh-Durham and the Greater Richmond Metropolitan Area.
US Highway 58 is an east-west corridor that provides access to the Port of Virginia to the east and Virginia's mountains to the west.
US Highway 360 runs from Danville through South Boston to Richmond, and continues to the eastern Northern Neck.
Rail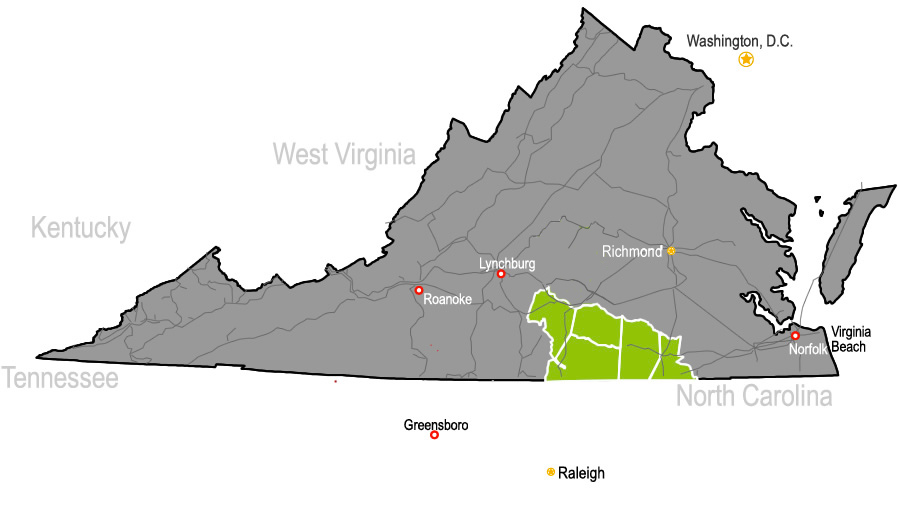 CSX provides rail service to the region and has 21,000 miles of track, access to 70 ports, and nationwide transloading and distribution services. VGA's MAMaC megasite offers direct access to the CSX main line via an on-site rail spur.

Norfolk Southern Corporation also runs east-west service nearby.
Ports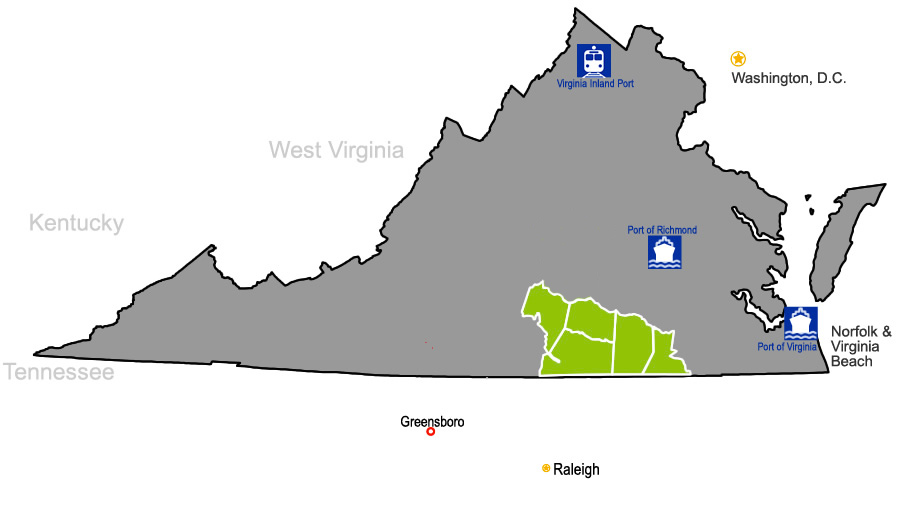 The Port of Virginia, the third largest container port on the US East Coast, is about an hour East and easily accessible via road or rail
Global service from more than 75 international shipping lines with 3,000 sailings annually to more than 250 ports in 100 foreign countries
The deepest harbor on the U.S. East Coast, capable of handling the largest vessels afloat and the next generation of mega ships
Large volume cargo-containerized, breakbulk, heavy lift, roll-on/roll-off, LASH, liquid, and dry bulk facilities
The Port of Richmond is multimodal freight and distribution center located about 60 miles north along interstate I-95.
Service to northern Europe, the United Kingdom, Canada, Iceland, the Mediterranean, the Caribbean, Mexico, and South America
Service for ocean-going vessels up to 525 feet plus and drawing up to 22 feet
250,000 square feet of covered warehouse capacity with 18 acres of open storage
Air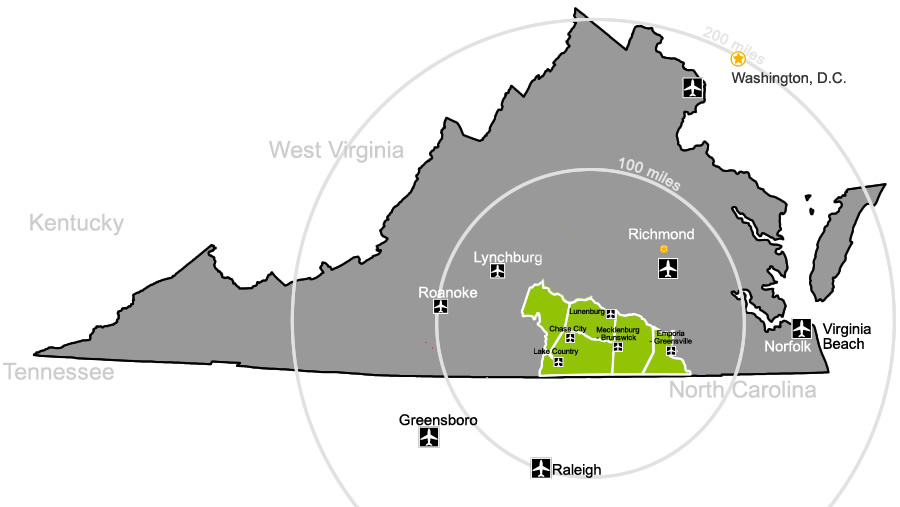 Five Regional Airports
3400 x 50 ft. / 1036 x 15 m, asphalt
Unattended
Emporia-Greensville Regional Airport
5.010' x 100' asphalt runway
Hanger/overnight parking
3000 x 50 ft. / 914 x 15 m, asphalt
Unattended
4488 x 50 ft. / 1368 x 15 m, asphalt
Mecklenburg-Brunswick Regional Airport
5,000 x 75 foot paved runway with pilot controlled lighting
AWOS-4 on field
Localizer runway 1 GPS WAAS runway 1 and 19 with LPV approaches
International Airports
Richmond International Airport is about an hour away and provides both passenger and cargo services:
Passenger service is provided by eight major airlines. About 200 daily flights provide non-stop and connecting service to major domestic and international destinations.
115 million pounds of cargo are handled annually through freight and air express services.
Raleigh-Durham International Airport is about 70 minutes away:
400 flights on 9 airlines to over 48 non-stop destinations each day.
Connecting passenger service to hundreds of domestic and international destinations.
Cargo terminal - largest operators are FedEx and UPS.
Norfolk International Airport is located approximately 90 minutes away:
Six major airlines providing direct and connecting passenger service to hundreds of domestic and international destinations.
Freight and air express services.